Founded in 1936, The University of Queensland School of Veterinary Science (UQSVS) commenced teaching a first year intake of seven students on the original site at Yeerongpilly. Students completed fourth and fifth years at Sydney University until 1951.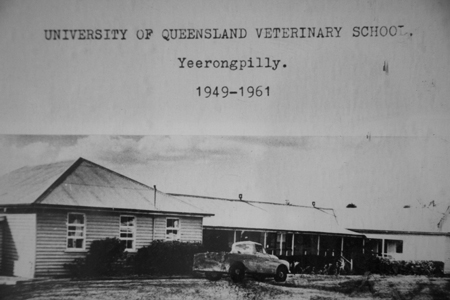 ---
In 1961, the School moved to the main St Lucia Campus, where it was located until 2010. During these years, the School operated a Small Animal Clinic at the St Lucia campus, the Veterinary Science Farm at Moggill (now Pinjarra Hills) in western Brisbane, the Pastoral Veterinary Centre at Goondiwindi, and a veterinary clinic in Dayboro.
Read more about a history of veterinary education (PDF, 599.9 KB) in Queensland.
---
The School of Veterinary Science is now one of seven schools within the Faculty of Science. The School of Veterinary Science relocated to purpose-built facilities in 2010.
Our range of facilities includes:
new diagnostic, research and teaching laboratories
a Clinical Studies Centre in which students learn animal handling and surgery
UQ VETS Small Animal Hospital
UQ VETS Equine Specialist Hospital
UQ VETS Dayboro veterinary surgery.
In 2012, the School of Veterinary Science received American Veterinary Medical Association (AVMA) accreditation, which is well recognised as the international benchmark for quality in veterinary education.
It now also has full accreditation with the Australasian Veterinary Boards Council (AVBC) and the Royal College of Veterinary Surgeons (RCVS).