Moving to a new country can be daunting. So can starting at a new university. Doing both at once can be a real challenge!
The School of Veterinary Science/University of Queensland is helping international students make a smooth and successful transition to life and studying at Gatton Campus.
Student representatives
In each year of the BVSc(Hons) program, two international year representatives are elected. They provide a collective voice for international students in a single year and are the first contact for international student issues. The international year representatives also discuss international student issues with the SVS international student mentor, organise international students' events and provide mentoring services to international students.
Email addresses for international year representatives will be provided to international students of each year.
Please note that there are also year representatives in the Bachelor of Veterinary Science (Honours) program.

Top of page
Peer support
An International (peer) mentor is a current student who volunteers their time to help new students settle into life in Gatton and study at the School of Veterinary Science.  All new students have to make adjustments to be successful at university.  Mentors provide peer support and thus a student's perspective of University life by sharing their experiences, challenges and insights.  The International student mentors are a mix of local and international students working together to assist new students from the time they arrive in Australia, attend Orientation and throughout the semester.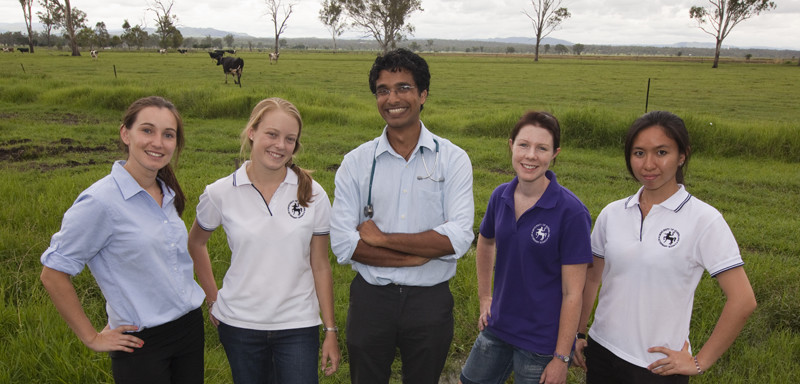 Top of page
Academic mentor
Associate Professor Joerg Henning is the International Student Mentor at the School of Veterinary Science. He is liaising directly with international students and international student representatives and provides support, guidance and advice on any issues that might be important for international students.
Top of page
Student events
Together with the SVS international student mentors, the International student representatives are organising multicultural events for international and domestic students. These include food festivals, movie nights, sports events etc. In addition information on multi-cultural events in the region such as international language festivals are promoted and constantly updated through a SVS international Facebook page.
Top of page
Student Life team
UQ's Student Life team provides assistance across a wide range of areas, including accommodation, study tips and emotional support for new students making the transition to university life and coping with the challenges that transition can present.
Student Life at Gatton is located in Morrison Hall.

Top of page