Billy
My name is Billy and I'm an international student from Hong Kong. When I first came to UQ Gatton, having grown up in a big and vibrant city, I found Gatton quite uneventful and isolated. However, once I started getting to know more people, I realised Gatton is actually a very close-knit and supportive community regardless of where you come from, and everyone would definitely find somewhere to fit in. In terms of the coursework, you will need to be prepared to work hard. This is not an easy degree, but it is very rewarding. One thing I really enjoy about this course is that we are provided with plenty of hands-on opportunities that allow us to apply what we learn in lectures in a practical context.

Song Ze Yann
Being an international student isn't as bad as it sounds. I had my doubts before coming to Australia but it turns out my doubts were wrong. There are so many people that I can mingle with. Not only were Australians surprised that I could speak English so well even though the language isn't my first language, but I also got to meet people from all over the world, and to explore their culture together.  Besides that, living in another country was also a whole new experience for me, and I am grateful that I had the opportunity to go through this exciting new chapter of my life.
Pavithra Ramesh, President of the UQ BVSc International Student Network 2018-2020
As an international student straight out of high school, I was quite apprehensive about entering university so far away from home. But at UQ Gatton, I found a whole community of students, all from diverse backgrounds, who had gone through a similar transition to me. The support I received has been amazing! It really helped me  through the process of leaving home and getting into the flow of the programme, which has been brilliant so far!  In spite of such a demanding programme, we have had a really good system that motivated us to keep going. And I am really grateful to be part of such a wonderful community.

Nevindajit Kaur Harjit Singh
I am a Malaysian student. Studying internationally is great in many ways but has also proven to be quite challenging. Gatton is a rural town an hour west of Brisbane, and having the vet school placed there allows for amazing hands-on facilities and the development of animal husbandry and handling skills in an ideal setting. Each year group has a set class structure with approximately 120 students, allowing us to get to know each other very quickly and creating a cohesive environment where all students – international or domestic, are able to bond and create lasting friendships.

Gene Lee & Yuki Ko
UQ vet school provided lots of support for international students. Many social activities are organised exclusively for UQ vet international students such as Harmony Day.  These enable us to immerse ourselves into a culturally diverse environment, meeting new friends from all over the world. Our lecturers are very warm and welcoming towards international students. They are always here to help us to cope with different kinds of problems ranging from academic questions to everyday life and even overcoming homesickness.

Sam Danlei Wang
Studying veterinary science in UQ Gatton has been an amazing journey. The best part that I loved here is how supportive and lovely the community is. Before I came to Australia, I wasn't sure if I could settle in well as I had never lived in another country; but thanks to VFL (which is an awesome program that aims to integrate students from different backgrounds), I surprisingly found myself surrounded by lots of new friends within the first week!
And although academic life can be busy, my spare time is never boring – heaps of social events; Special Interest Groups which enable us to explore different career possibilities; and a solid peer support system to turn to whenever I encounter any problems. I'm sincerely enjoying every moment of my life here.

Julia Finlayson
I'm very glad I chose UQ for my veterinary training. The facilities are world-class, with access to spacious, state-of-the-art labs and all the main animal species present on campus. The lecturers and tutors are all helpful and approachable. Little perks like having access to past exam papers and the ability to watch lectures online help keep stress to a minimum. The option of living on campus is extremely convenient for international students. Everyone is friendly and welcoming. As a winter-hating Canadian, I am very happy to be earning an internationally accredited degree while living amidst the sunshine and palm trees of Queensland!  

Alexander Del Bianco
Studying at UQ is one of the best decisions I have ever made. It's really given me a chance to work with people that are just as passionate about veterinary medicine as I am. The lecturers and the rest of my peers have been supportive throughout the course and are assisting me with living in a foreign country. I currently live in a shared house off-campus in Gatton with domestic students. They are always there for me to help whether it is with university or non-university related matters. Gatton itself is very warm and welcoming of international students and appreciates us being there.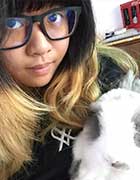 Ian Kei Ho (Fiona)
My name is Fiona and I am an international student from Macau.  I undertook the Enhanced Study Program offered by the university, and I had a chance to attend classes here at the Gatton campus. Ever since then I had my heart set to come back for my tertiary education, as the Gatton campus is such a peaceful, charming place to be.  
The teaching staff here are some of the most caring people. Each and every one of them is passionate about providing the best for their students. These staffs really helped me to transition into university life.